Web Site Design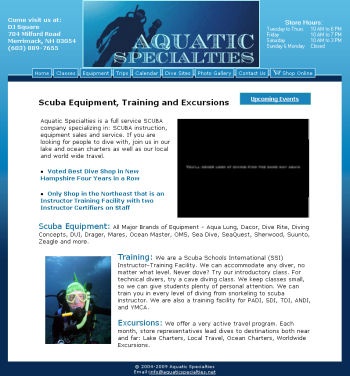 Don't know much about HTML?
Don't feel embarassed - you're not alone! Not many people know anything about hypertext markup language (HTML), the language underlying most web pages. Nor are many people familiar with "meta tags", the hidden text that search engines use to catagorize your site. And virtually no one knows what FTP is--the internet protocol use to transfer you web pages to the web servers.
Web Site design and development can be either very simple or very complicated and, correspondingly, can be either very reasonable in cost or very expensive. The factors that come into play are: the size of the Web Site; the amount of graphics to be included; whether or not custom designed forms for users to fill out and submit are included; and how complicated the structure of each individual page is.
In general, our observations have been that the most effective Web Sites are relatively simple in design, have as few graphics as necessary and, unless there are compelling reasons, do not have many pages. Therefore, the average business or professional association can have an effective Web Site put together for a surprisingly reasonable price.
Keeping the above considerations in mind, here are some estimates of possible costs:
$250 for a five page site.
$500 for a Medium sized site of up to 10 pages, one simple feedback form, & small variety of graphics.
Larger sites with complicated structures, large amounts of graphics, and multiple feedback forms and/or complicated processing scripts are available. We also offer e-commerce capabilities.
The above estimates are predicated on the average page including the following elements:
Inclusion of suitable graphic image provided by you (such as company logo).
A reasonalble number of other appropriate images.
Streamlined and intuitive system of menus.
Your choice of backgrounds.
Text supplied by you.